Girlfriend was watching this fun internet celebrity Trisha Paytas trying on different outfits. I was surfing sex sites on my tablet and watching porn, while she was going through the various you tubers she subscribes too. I glanced over and noticed she was putting on an emoji print outfit. Top and pants with large smiley faces and such – she seemed to be having a good time sporting these unusual threads and then she says "YOLO" – loving it! Now she has my attention.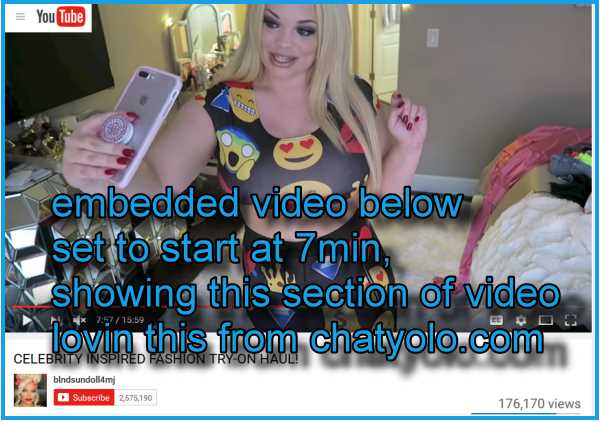 You can see her big boobs stretching the emoji while she tells the world that YOLO so why not wear something like this out.
At first I did not understand this girl, and now that I've seen more and more of her. I am starting to really like that she just throws out the real to the world. I would be too shy to do the things she does on camera. She is pretty good at putting on multiple lights and streaming her web cam while talking to her masses. Gotta give her major props for that! Maybe we can get together and so some streaming together one day.
Now I wonder, what do you say to a celebrity if you meet them in a chat room? ASL? Like really? Age, sex, location.. is that the standard start of 'hey I'm interested in chatting with you more, if you answer these three questions to my satisfaction. You must meet my age range requirements, be the right sex (is there a wrong one?!) – and your location is important to he continuation of our online discussion. Yeah, that opening line is probably not the best for a celebrity meet or just about any other meet up I am thinking now.